Stewart Island
> Introduction to Stewart Island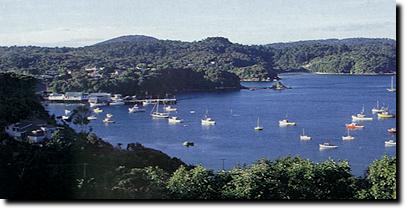 Rakiura, the Maori name for Stewart Island translated as "glowing skies", is the perfect description for this idyllic hideaway, being famous for its beautiful sunsets and display of the southern lights. The rugged landscape of Stewart Island is largely influenced by the weather and creates an atmosphere that is rough, dramatic, unforgiving, but also beautiful and serene. It is this atmosphere that draws us to Stewart Island, appealing to the adventurous and also to the naturalist.


Stewart Island''s original name, Te Punga O Te Waka a Maui, can be translated as "The Anchorstone of Maui''s Canoe". Maori mythology tells that Stewart Island was the anchor for Maui''s canoe (which was the South Island) while Maui caught and raised the great fish, that is the North Island. It''s present name came from first officer William Stewart who charted it''s southern coasts when he pulled into the port that is now called Port Pegasus in the ship Pegasus in 1809. It has also been called Motonui (''large island'') in earlier times. The total area of Stewart Island is 172 square kilometres and has a single small town, Oban, at Halfmoon Bay.


Now a National Park, Stewart Island has plenty to offer, from scenic day walks to adventurous kayaking trips. There is an abundance of fishing opportunities and even a golf course at RingaRinga Heights, the southernmost golf course in New Zealand. Rakiura''s history includes whaling, sealing, timbermilling, fishing and tin mining and can be explored via your experiences on the island or for an intensive look, visit the Rakiura Museum in Halfmoon Bay and gain some inside knowledge on how Stewart Island came to be what it is today.

Fishing, aquaculture and tourism are the main activities on Stewart Island today. Stewart Island is home to a huge diversity of birds such as the South Island Kaka, weka, robin and fernbird, including many rare and endangered birds. The Island is also home to many fish, lizards and invertebrates, some only just discovered!


ON THE WATER
For those who love adventures on the water, Stewart Island offers the best. Charter boats provide daily escapes to go fishing and diving, and provide scenic views of the island. Glassbottom boats can give a unique view of the amazing undersea life. Excursions can also be made to some of the marine farms around Stewart Island and to areas of wildlife such as seal colonies. Enthusiastic fishers can expect to catch blue cod, moki, trumpeter and greenbone to name a few.

Visits to Ulva Island, an open sanctuary, can be arranged where you will find yourself immersed in an era of New Zealand, sadly long gone. Ancient forest, untouched by introduced pests, allow an abundance and diversity of wildlife unobtainable on the mainland, and providing you with a view of how New Zealand used to be. The Stewart Island Robin, South Island Saddleback, and the yellowhead (mohua), are just some of the rare birds you will encounter on the island. It is also a great place for a picnic and a walk on the beach. Guided tours of Ulva island will help you make the most of your visit. Kayaking is a relaxing yet adventurous way to see around the island, with numerous sheltered bays to explore amongst the kelp and other marine life.


The crystal clear waters are perfect for snorkelling and diving, and water taxis can take you anywhere you want to go, and can advise you on the best spots. Water taxis can also take you to Ulva Island and provide transport between bays.

Sea kayaks, and diving gear can all be hired on the island so you can be sure you won''t miss out on any experience that Stewart Island has to offer.




ON THE LAND AND IN THE AIR
Guided tours are available on the island or you can go it alone in a hired car, scooter or mountain bike to explore the island as leisurely as you wish. Bus tours are available, giving a running commentary on the history of the island as well as on interesting places along the way.

For a wider view of the island, scenic flights can provide awe-inspiring views of the dramatic landscape below and can also drop you at various points on the island to continue you explorations on foot or to go hunting. There are any number of combinations of trekking, boating, kayaking etc. in which to explore the island, so you can arrange your own unique adventure that is unforgettable.


There are numerous walking tracks on Stewart Island, from short day walks to long treks up to 14 days duration for experienced trampers. Track conditions vary but expect mud and be ready for any change in the weather. The Rakiura Track is one of New Zealand''s Great Walks. It is 36 km long with two huts along the way, and usually takes 3 days. The North West Circuit takes 10-12 days and is 125 km long. Huts are well placed, and there is plenty to see along the way. Side trips can be made at various points to places such as Mt Anglem (980m - the highest point on the island), and Mason Bay beach.


The Southern Circuit is a wild and remote track for experienced trampers and can be added on to the North West Circuit, increasing the tramp by 3-4 days and 56 km. The Southern Circuit on its own, takes 6-9 days to walk 105km and various side trips can be added along the way. For a shorter wilderness adventure, there are numerous short walks to explore. Fuchsia Walk, Raroa Walk and Observation Rock are all excellent scenic walks that give you a good opportunity to see the native bush and birdlife. Ryan''s Creek, Fern Gully and Kaipipi tracks provide a longer trek into the bush and historic relics may be visible along the way. Maori Beach provides a variety of landscapes to indulge your senses. From beach and sea to bush and birdlife, it is the ideal experience.


On any of these walks, you may be lucky enough to see or hear a Stewart Island brown kiwi (tokoeka). There are around 20,000 living on the island and are active during both day and night. You may also encounter little blue and yellow-eyed penguins, along with the ubiquitous forest birds and other sea life. Kiwi spotting tours also run on the island, so for a guaranteed sighting, join a tour. For hunters, Stewart Island offers the chance to hunt red deer and New Zealand''s most accessible population of Whitetail deer in native bush. Boats and planes can take you to almost any destination on the island that you wish. Hunting permits can be obtained from the Department of Conservation.




Stewart Island offers a wide range of accommodation and restaurants to suit all tastes.


It is a good idea to plan your trip in advance, in order to guarantee that you see and do the activities you want and make the most of your trip. Places can be limited on kiwi spotting tours, gear hire may be limited, and if hunting, it takes time to get permits. There are also no banks on Stewart Island so be sure to take enough money, although eftpos and Credit Card facilities are available.


For more information and to plan your trip in advance, contact
Rakiura National Park Visitor Centre
To help you make the most of your stay on Stewart Island. Open every day except Christmas Day.
| | |
| --- | --- |
| Address: | Main Road, Halfmoon Bay, Stewart Island |
| Postal: | PO Box 3, Stewart Island |
| Phone: | (03) 219 0009 |
| Fax: | (03) 219 0003 |
| Email: | stewartislandfc@doc.govt.nz |
Get away from it all at Stewart Island.