Fiordland
Fiordland
"The Walking Capital of the World"
. Some of the most wild and dramatic scenery in New Zealand can be found in Fiordland, in the south west corner of the South Island. Fiordland is one of the largest National Parks in the world and a World Heritage area. Here the power of nature stuns the enthralled visitor - from its waterfalls tumbling hundreds of metres into virgin forested valleys, lonely fiords, endless stretches of shimmering lakes and granite peaks. This is the largest National park and offers Ecotourism at its best.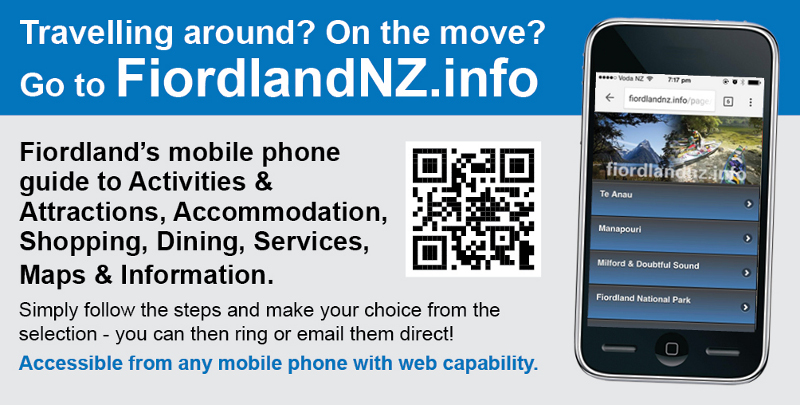 Some highlights include:

FIORDLAND NATIONAL PARK VISITOR CENTRE
Located on the lakefront in Te Anau, DOC staff can provide information on the many walks or multiday hiking trails available in the area as well as advice and up-to-date information on weather and track conditions. A brochure of selected short walks in Fiordland can be obtained from the Visitor Centre. For online information or any bookings (Routeburn, Milford and Kepler Tracks) please visit: www.greatwalksbookings.co.nz.


DOC - Walk the Kepler Track video
DOC - Walk the Milford Track video
VISITOR CENTRE TO TE ANAU WILDLIFE CENTRE
(
15 min each way
)
A lakeside path leads to the Te Anau Wildlife Centre where some of New Zealand's native birdlife may be observed. Open from dawn until dusk, entry is by gold coin donation.
VISITOR CENTRE TO CONTROL GATES
(
50 min each way
)
Continuing along the lakeshore from the Te Anau Wildlife Centre, the Control Gates lie at the south western corner of Lake Te Anau and regulate water flows between lakes for the West Arm hydroelectric power station. This is also the start of the Kepler Track.
CONTROL GATES TO DOCK BAY
(
1 hr return
)
A return walk on the first section of the Kepler Track. Starting from the control gates, a well defined track follows the lakeshore through attractive stands of native forest. A pleasant bay with swimming and picnic facilities.
CONTROL GATES TO BROD BAY
(
3 hr return
)
Further on from Dock Bay, Brod Bay is another popular spot for boaties and day walkers to enjoy the beach and picnic facilities. A water taxi is available to return to Te Anau on a prearranged basis.
RAINBOW REACH TO SHALLOW BAY
(
3 hr 30 min return
)
A gently undulating track through mountain beech forest with great river views. Some scenes in the Lord of the Rings movies were filmed here. The Shallow Bay Hut offers shelter and toilet facilities as does the nearby Moturau Hut.
THE WILDERNESS LOOKOUT
(
5 min
)
Situated on SH 94, 15-20 minutes drive from Te Anau towards Mossburn. The viewing platform overlooks Halocarpus bidwilli bog pine forest and offers 360 degree views of the Takitimu Mountains, foothills and farmland.
MANAPOURI
The departure point for excursions to Doubtful Sound and the West Arm Underground Power Station, Manapouri also offers a range of short walks accessible by Water Taxi including the Circle Track, Stockyard Cove, and Waterfall Tracks. Please contact the Fiordland National Park Visitor Centre for further information.
LAKE MANAPOURI AND PEARL HARBOUR

Called Roto-ua (rainy lake) and Moturau (many islands) by early Mâori, environmentalists successfully campaigned to save the area's natural beauty in the 1960s, halting plans to raise the lake level to generate hydro-electricity. There are plenty of walks and other attractions in this area. Pearl Harbour is the only place in the area with private boat launch facilities.
FRASERS BEACH
(
45 min each way
)
A pleasant stroll along the Waiau River bank and Lake Manapouri shore from Pearl Harbour to Frasers Beach. There are exit points at several places back to the Main Road. The track is signposted from both start/end points.
MILFORD SOUND/ PIOPIOTAHI
(
5 hr return drive from Te Anau
)
World renowned, Milford Sound is New Zealand's only fiord accessible via road. Don't miss the opportunity to explore the many short walks and scenic-stopping points along the Milford Road itself – a spectacular alpine journey through a World Heritage National Park. A guided journey with a local operator can offer insights which add to the experience and leave drivers free to enjoy the scenery. Pre-book in the peak season and please check road conditions before departing, especially in winter. For further information visit the Fiordland National Park Visitor Centre.
TE WÂHIPOUNAMU – SOUTH WEST NEW ZEALAND WORLD HERITAGE AREA
World Heritage is a global concept that identifies natural and cultural sites of world significance - areas so special that protecting them is of concern for all people. Known to Mâori as Te Wâhi Pounamu (the place of greenstone), the South West New Zealand World Heritage Area incorporates Aoraki/Mt.Cook, Westland/Tai Poutini, Fiordland and Mount Aspiring National Parks - covering 2.6 million hectares of pristine wilderness. Some of the best examples of animals and plants, once found on the ancient supercontinent Gondwana, live in this World Heritage Area.
---
Accommodation
Activities and Attractions
Milford Sound
Manapouri / Doubtful Sound